We provide

fixed broadband wireless internet
Fixed Broadband
Wireless Internet
Wireless Internet Service / Double Dog Email Hosting Available
Our Fixed Broadband Wireless Internet service requires a line of site to one of our towers that transmits to an antenna mounted outside your location. Contact us to find out if your residence or business qualifies for our fast and reliable internet service.
Website Design & Development
Domain Registration / SSL Certificates / Web & Email Hosting
Having a website is a vital sales tool for your business. We can design and build a website for you that is easy to manage and can grow with your evolving needs to promote your services or products online. Discuss your project with us to begin!
Graphic Design
Graphic Design Services / Print Services
You must have your own unique brand if you're going to stand out from your competitors. From tangible (brochures,) to intangible (logos) we can help you realize your vision and promote your business. Discuss your project to begin!
Outage Report
If there is an outage, our customers will know about it.
If you are experiencing technical issues, please first check for outage reports to see if any exist.
If there are none, for further assistance, please contact our technicians by calling 717-505-9675  or email techsupport@ddogcom.com
Speed Test
This will provide you the most accurate numbers for your location.
If you would like to perform a speed test on your current connection, we recommend performing one on Level 3's online tool linked below.

Customer Web Mail
DoubleDogWireless.com / DDogCom.net/YorkInternet.net / MTWirefree / Superpa.net 
All customers we provide email hosting for, can use the link below to login to your webmail, the online email program, to access your email address inbox.
Setup Email on Desktop / Mobile
Follow the steps to setup your email.
Visit:


 

https://help.emailsrvr.com

Enter your email & password into the fields.
Walk through the steps to setup your email.
Done!
This walkthrough is for ALL of our email hosting accounts.
Design Portfolio
We've shared in this online portfolio a glimpse into the projects we have been a part of over the years. We encourage you now to browse our work to get an idea of how we have been able to create unique visions for each client from many different industries.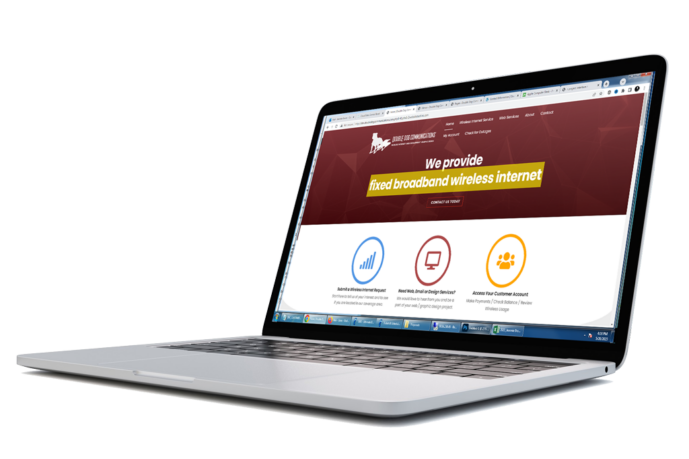 A few facts about our company
Since our inception in October of 1997, we've brought the area reliable Internet access with customer service from people that live in our community. Soon after, we built our marketing, website design/development and domain registration, SSL certificate, website & email hosting services to meet those needs of our business customers.
If you are currently a customer, we appreciate your business and value the confidence that you have placed in us.
The Double Dog daily goals we strive to provide our customers:
Double Dog Communications
2615 Joppa Road
York, Pennsylvania 17403
Hours of Operation:
8am – 5pm Monday-Friday
Telephone Support:
8am – 5pm Monday-Friday
Phone: 717-505-9675

Email:
techsupport@doubledogwireless.net
sales@doubledogwireless.net